T O Munro got their new book cover by running a design contest: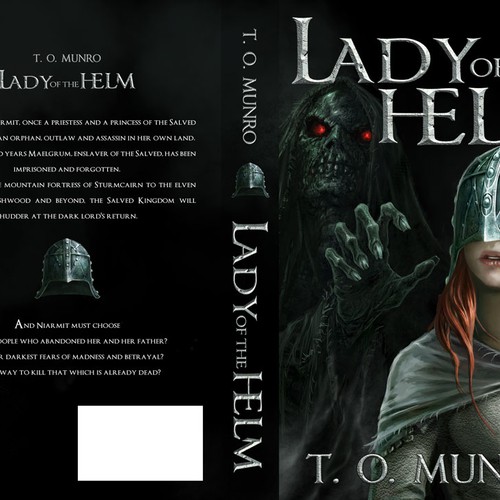 by paganus
T O Munro needs a new book or magazine cover
Check out T O Munro's Book cover contest…
I write books - most recently the first book in a fantasy fiction epic.
31st May update - I have uploaded a line drawing that my daughter did of the kind of look I was hoping for for the helmet.  Although the bit across the eyes ended up more darkly shaded than I wanted - (ie it looked like a motorcycle visor rather than a war helm).  The back of the helm has a tail plate, neck guard which flares out to be visible either side of the neck but also with scope for Niarmit's hair to appear. I have also made a comment on the first design submission from Donna, which may have pointers of relevance to other designers. In particular In terms of clothing, the point in the plot at which Niarmit (finally) wears the helm she is dressed in rags (torn and bloodstained) borrowed from a zombie.  This might make an interesting contrast with a warhelm on her head.  If the cover precisely references this point in the plot - it might pose some interesting questions for the observer to pique their curiosity (and make them read/buy the book!) Original Brief Below I have completed a 130,000 word fantasy novel which I am looking to e-publish. I have some ideas about the cover art, but lack the artistic or graphic talent to put them into practice. I have given a little more information about the book and my ideas for it below. The book concerns, as you might expect, a young heroine unexpectedly called to wield an ancient artefact to defeat a re-awakened menace. It is these themes which I would like linked on the cover. 1. The heroine is a tall slim young woman in her early twenties with pale skin and red hair. Her name is Niarmit - a suitable model on which to base her would be Karen Gillan as seen at http://www.paydayadvanceuk.co.uk/news/wp-content/uploads/2011/12/Karen-Gillan.jpg or http://www.kasterborous.com/wordpress/wp-content/uploads/2010/dw-kgillan-gall-hp3.jpg 2. The artefact is an ancient helmet. The most noticeable feature of the helm is that it extends down as far as the tip of the wearer's nose covering the eyes with a solid sheet of metal so that the wearer appears to be blindfolded. In terms of style one might think of the saxon sutton hoo burial helmet but without the face plate or eye holes and probably less ornate. http://2.bp.blogspot.com/_RoaCkKjdTJE/TLeGBOH0moI/AAAAAAAAA9g/OcwXA-YLcW8/s1600/P1040060 3. The re-awakened menace is an undead wizard called Maelgrum whose appearance is skeletal, with paper thin age blackened skin and red flares of light in the pits of his empty eye sockets. The cover design I have in mind is a) a backdrop/water mark of Maelgrum's skull, possibly cowled, but subtly hinted at rather than rendered in too exquisite detail. b) a foreground picture (of between half and two thirds the book height) being a head and shoulders shot of Niarmit wearing the helm facing the reader. With the helm on, her face will be hidden apart from her mouth and chin. My intention is that the brooding presence behind her, coupled with her apparent handicap of being unable to see, will create a sense of peril as well as encapsulating the main themes of the book. I think this sense of peril could be accentuated if her mouth was slightly open and her head turned ever so slightly to one side as though aware of something alarming behind her which she was about to turn and confront, but I am ready to be advised otherwise, Book cover designs that I would like to emulate in terms of mood and colouring are (i) Prince of Thorns by Mark Lawrence - though with a close up of Niarmit as described above rather than the full length protaganist (ii) Game of Thrones by George RR Martin - the cover picture linked to the HBO series with Sean Bean sitting on the Iron Throne. The cover should feature the title of the book Lady of the Helm on two lines at the top of the page and the author's name to be T.O.Munro at the bottom. I am open to suggestions as to what font would be suitable for a fantasy epic, but am thinking silver on a essentially black background would work well. The dimensions of the book should fit the standard Amazon kindle cover art ratio 600 x 800 pixels in portrait. I have pasted two excerpts from the book below to give you a bit of a flavour of the characters. The first is from a scene where an unfortunate dungeon warder called Marius discovers he is to be the vessel for the release of Maelgrum.  This may give you a little insight into the appearance and manner of the antagonist an undead wizard whose patience has been somewhat tried by a thousand year imprisonment.. The second is from a scene where a unpleasant ogre named Nordag meets our heroine Niarmit to his deep but short-lived regret.  This is Niarmit's first appearance and may again give you a little insight into her character. Niarmit is 23 years old, she is - or was - a princess.  Her father was the Prince of the Province of Undersalve and he died in battle five years ago when the province was overrun.  Niarmit has spent those five years leading an ever dwindling band of resistance fighters in a forlorn rearguard action.  In that time she has learned the ways of thievery and assassination.   She can be imagined wearing either  a) the robes of a priestess with the crescent symbol of the goddess around her neck - I imagine this symbol as being a hand span wide and made of intricate celtic style interwoven strips.  b) the dirty leather armour of a common footpad wearing an alternate item of jewellery, a royal ankh with a gem in the hollow of the loop at the top.  The gem should be - for various plot reasons - pink in hue. Five years of hardship and guerilla warfare have shaped her into a wiry and formidable warrior, but the close up shot I am thinking of would not leave much scope to show that. As an alternative front piece I did consider a full length view of Niarmit holding the helm above her head and about to bring it down onto her head.  This would give scope to show more of her - while keeping the sinister skull like backdrop, but I am not sure how well that would render as a thumbnail.  I don't want it to be too busy. The other detail is a possible subtitle, "Before Niarmit can realise her destiny she must face her darkest fears of madness and betrayal."  But again I don't know if that could be made to fit. EXTRACT ONE They laid his trussed figure flat on the floor and Haselrig placed the cloth covered gem atop his heaving chest. "What are you doing," Marius cried as power returned to his lungs. However, they busied themselves about without sparing him so much a glance, still less an answer. "Help!" Marius screamed at the top his voice and Xander made to strike him, but again the mage caught his arm. "Relax, my friend, the way is closed up there now.  An army could scream in here and no-one would hear them. Let him scream while he can." Marius was whimpering now, fearful for his life and his family.  How could he have been so foolish – why had he not simply run when they first arrived, or even reported Haselrig's first approach to his superiors. But no – the girls had been ill and the fat little man with the strange proposition had appeared as though sent by the goddess herself. "Aargh," he cried out as Xander dragged a knife across his wrist.  He could feel the blood leaking profusely across his hand. "Careful," Haselrig rebuked the prince.  "We don't want it bleeding too fast, he must be weak not dead when the ceremony climaxes." "Then you'd better get on with the ceremony," the mage suggested. Feeling a little faint, Marius turned his head to see mage and antiquary standing either side of him. Haselrig held in his hand the crescent symbol of the goddess and was waving it in invocation of a priestly spell.  In some recess of his fading consciousness, Marius remembered a rumour of long ago scandal, how the court antiquary was a defrocked priest – denied advancement in the church for some unforgiveable indiscretion. "This was your ancestor's mistake my prince, why he never succeeded," Haselrig was saying.  "There have to be three for the ceremony, and despite his many talents Chirard could not be all three." On his other side the mage was also summoning a spell and now Xander loomed over Marius's helpless form a bloodied knife in his hand which he wiped clean on Marius' shirt. "You are a disgrace to your father," the dungeon warder muttered with failing breath. Xander nodded genially. "So he often tells me.  Maybe if he hadn't neither of us would be here now – think on't my poor old soldier." The ex-priest and the forbidden mage were circling Marius now and the gem rose from its wrappings, hovering above his chest. As the focussed magic poured into it, the great jewel shone and sang, humming with vibrations and within it the dark shadow flickered back and forth at an ever increasing rate.  The sharp note of the resonating crystal was deafening, the light blinding and in the midst of it Marius heard Haselrig cry, "now my prince, strike now." Marius looked up helplessly as Xander raised the knife two handed high above the dungeon warden's chest, high above the spinning levitating jewel.  The prince shifted the knife to his right hand and drew the blade across the palm of his own left hand.  Marius gasped as a rich stream of regal blood dripped straight down onto the spinning singing humming crystal.  "Enough, get back all of you," the mage commanded and the three conspirators stepped back away from the spectacle as the gem began to smoke and then – exploded in a shower of sand that scoured Marius's face waking him from the anaemic slumber into which he had all but fallen. Out of the dust a dark shadow rose. Like smoke it drifted back and forth, growing denser with each moment and then, on a faint intake of breath, the cloud shot inside Marius's mouth, his nostrils his lungs.  It filled him consumed him.  Strange things were happening to his body.  The rope bindings fell from his hands and feet, he felt himself sit up, though he did not remember thinking it.  Hands were raised to his face.  They were his, but then they weren't.  His arms withered and blackened before his eyes, skin stretched tight across bone, fingers gnarled into twisted shapes and yet they then flicked with rapid dexterity in a sudden complex gesture.  A whispy cloud of steam appeared infront of his face and condensed into a reflecting surface of increasing clarity.  As the image condensed before him, Marius was horrified to see not his own old careworn features, but a blackened skull, with paperthin skin on fleshless bone.  Teeth set improbably in a gumless mouth and where his eyes had been there were two blood red lights glowing in empty sockets. He would have screamed but his mouth no longer answered to hiswill.  With another flick of his wizened fingers, Marius observed himself dismiss the invoked mirror and turn to face the trembling forms of the prince, the antiquary and the mage. It was as though watching himself from a great distance.  He heard Haselrig stumblinglyannounce, "welcome oh great Magister, we your servants rejoice in yourresurrection.  Our names are…." Already the eyes that Marius could see through but not direct had moved on, gazing around the walls of the cavern, through the walls.  His transformed hand waved Haselrig into silence and a hissing sibilant voice emerged from a throat Marius could no longer feel.  "Your namessss are not of any consssequence.  You have purposssee only in ssssso far asss you can ssserve me.  Do sssso well and your rewardsssss will be great. Fail me and eternal ssssuffeering will be your lot." Marius could feel a mind inhabiting his own, displacing his consciousness as it had abrogated his control of his own body.  He wanted to cry out, to exclaim he was here still, inside this nightmare creature – but the presence within him was too great effortlessly squeezing him out of existence. Haselrig was struggling to speak again, but the hissing voice quelled him once more.  "Thissss issss no place of sssafety for me.  There issss much that I musssst know and much that you mussst do, but firsssst let ussss leave this prissson." Marius's dwindling sense of self saw the fingers flicker in yet more magic and then the chamber vanished and reformed a different place.  It was smaller, darker with the monster from the gem and the three traitors, but Marius was no longer there. EXTRACT TWO "Has the Captain been by?" Nordag grunted. The orc on the left nodded straight faced, the one to the right suppressed all but the faintest twitch of a grin. Nordag scowled at them.  "No interruptions, understand." Both nodded, but for added emphasis Nordag warned them, "I see either your faces before dawn and I change their shape, understand." Then he pushed his way into the mayor's private chambers, closing and barring the door behind him. In prior times the Mayors of Woldtag had kept a suite of rooms within the town hall, at the top of the building.  The smaller rooms were ill matched to Nordag's size but the main chamber, in which past incumbents had done their entertaining, served all the ogre's simple needs.  The magnificent dining table made a sturdy bed, piled high with cloth and furs. The balcony with its view over the market square served as an effective latrine – and in so doing also discouraged the casual callers and petitioners who might otherwise have ventured into the town hall. He unclasped the heavy gold broach that held the cloak around his neck.   The cloak had been a gift from one freeholder anxious to ingratiate himself with the new power in Woldtag.  It was one of the few garments that matched the ogre's size and the man had sent his daughter forward to present it.  Nordag remembered still her trembling prettiness and the alacrity with which the man had included her with the gift when Nordag made the demand. Another memory brought a twisted smile to Nordag's lips.  There was a slight movement to the pile of furs on the table and the ogre strode towards it with renewed interest. He savoured the moment as he stood at the foot of the bed, loosening the straps of the battered steel breastplate. He tried to gauge from the quivers in the bed clothes where the captain had hidden this evening's frightened plaything.  He guessed which side just as the metal armour fell silently to the marbled floor.  Flinging aside the bedding, he had just a moment to register the oddity of the noiseless clang of metal on stone before he saw her. She was not the usual type that the captain picked out for him.  In a second he saw she was older than usual just past the end of adolescence as far as he was any judge of human flesh.  Taller than most and sinewy, clad in dark shirt and breeches rather than the more usual night shifts.  Flame red hair spilled across her shoulders and green eyes blazed at him with a defiance rare in someone brought before Mayor Nordag.  Rather than lying trembling within the folds of bedding this one crouched on her haunches looking up at him.  The final abnormality he had time to notice was that her hands were not bound behind her, but free infront of her, one held a glinting steel dirk and the other fist grasped a crescent talisman. Then she erupted like one of those amusing jack-in-the-box toys that more astute freeholders had learned to give Nordag as a gift.  Driving upwards sword arm outstretched before her, she sprang towards him, driving her blade into his throat even as his mouth gaped open in astonishment. Standing now on the edge of the table her face was level with his chin, her green eyes glaring into his dimming yellow ones. Nordag struggled to raise his arms, to grab that scrawny neck with his last strength, but she leant back and away, whipping her blade out of his neck with a cruel sideways twist.A gurgling flood of green blood sprayed from his wound as Nordag fell heavily but silently to his knees. Still the whole event was wreathed in unbreakable silence as the ogre's choking gasps for help remained inaudible even to his own ears. Now she was looking down on him, her face and clothing flecked with his blood, her expression blankly purposeful.  His fading vision saw her swing her arm in one last strike across his neck and then the ogre toppled sideways in a silent thump to the floor, a pool of green spreading across the marble. His killer wasted little time.  She wiped the blade clean on the soiled bedding, tucked it into her belt and reached under the table to pull out a carefully coiled rope and grapnel. Then she hurried to the balcony and hooked the grapnel to the balustrade.  Outside all was quiet and dark, the curfew well observed by all in Woldtag.  She swung a leg over the edge and abseiled quickly down to the street below.  A flick of the rope loosened the hook and brought it tumbling down, but before she could move to catch it a figure detached from the shadow of the wall and intercepted its flight a few feet from the ground. "Well met, my lady," the newcomer greeted her softly. She scowled back at him.  "What did you do with the girl?" she hissed. He looked hurt, "I saw her on her way, through the sewage outfall at the east end and pointed her in the direction of home." "You were supposed to see her all the way." Her tone was low but unamused as she briskly re-coiled the rope and flung it over her shoulder. "I came back for you, my lady." "I don't need your help Kaylan – the girl did."  He bowed his head at the rebuke, absorbing it with habitual subservience.  "Of course, my lady." "And I've told you I'm not your lady, not anybody's lady – not anymore."  She glanced quickly left and right and then jerked a finger towards the shadows around the temple wall.  "This way." "Yes my….  miss,yes…." He hesitated to speak or to follow, tongue flicking across his lips before he dared to utter her name.  "Yes Niarmit," he whispered when she was just out of earshot.
Every design category has flexible pricing for all budgets. Book cover starts at €269.
Full copyright with production-ready files for digital and/or print.
It all began with a design brief.
A quick, interactive guide helped them understand their design style and captured exactly what they needed in their book cover.
Designers across the globe delivered design magic.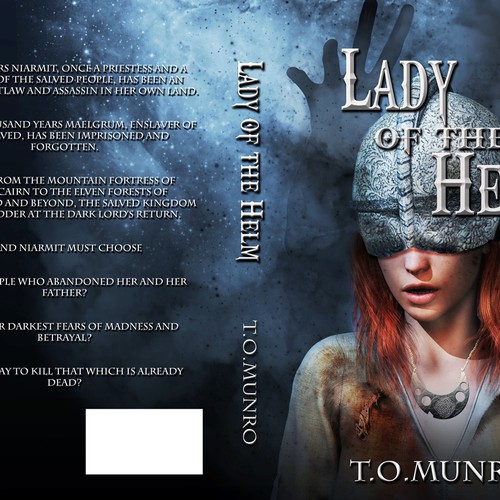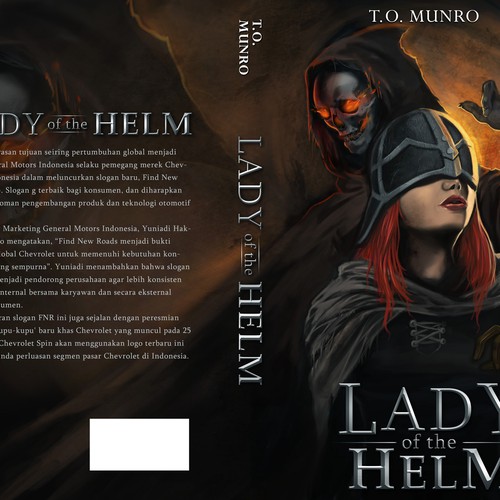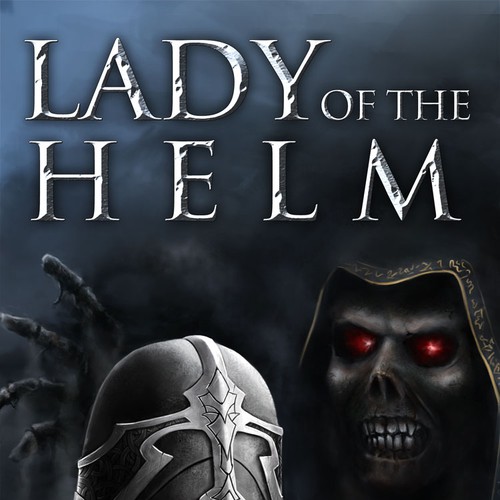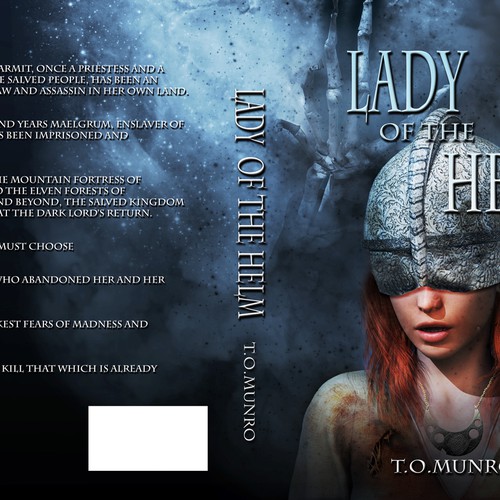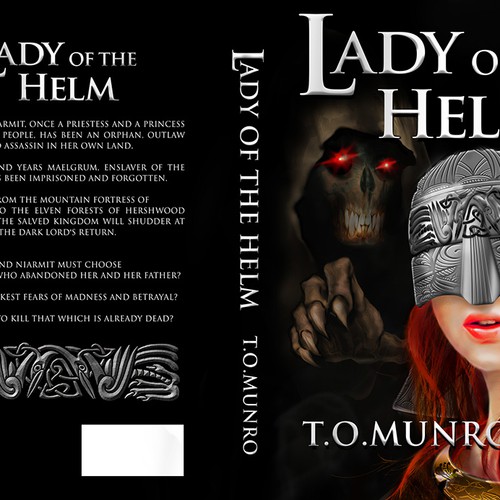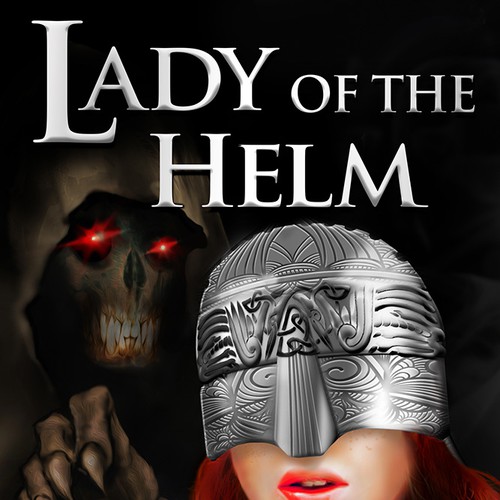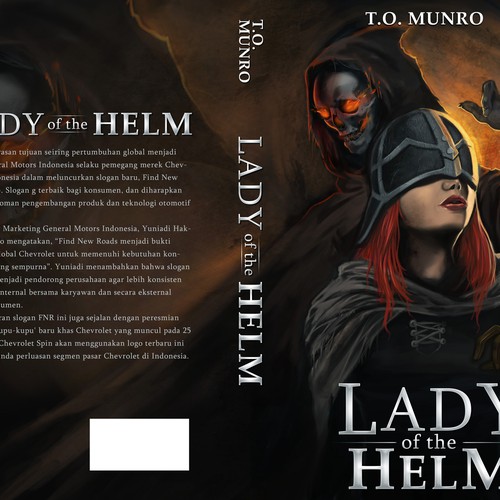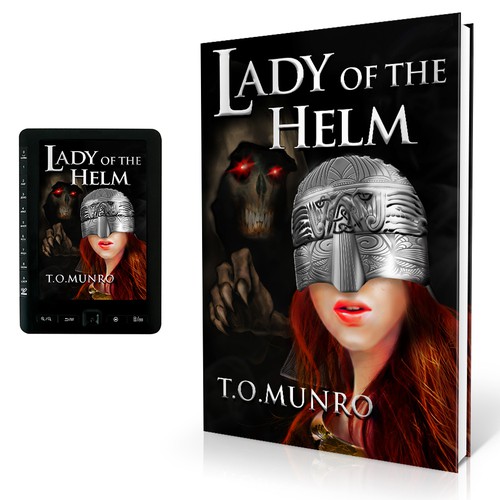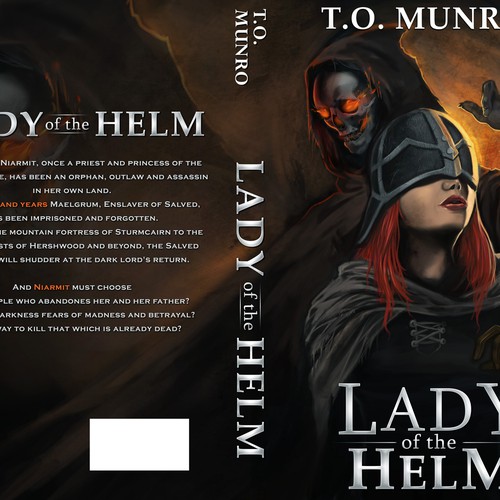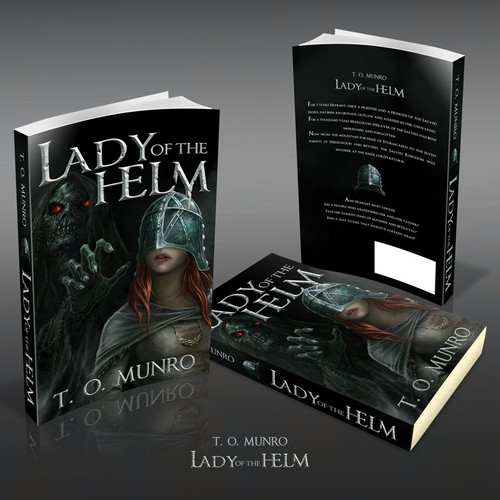 You'll get loads of concepts from experienced designers around the globe.
Work with talented, professional Book cover designers to turn your ideas into reality.
Select your favorite custom Book cover (Or two! Or three!). And the design is all yours.
T O Munro collaborated with designers to refine their ideas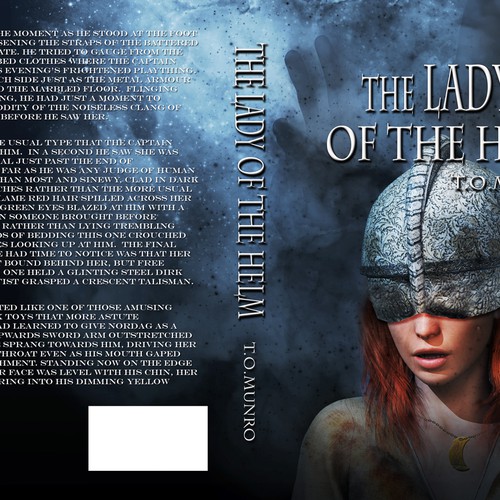 Rate designs
When design entries come in, you can rate them so designers know what you're looking for in your logo design.
Give feedback
99designs has great collaboration tools so you can pinpoint and capture your ideas
And then… they selected a winner!
Along the way, they met lots of talented designers…
We think contests are a super fun way to get design.
Recently completed contests:
Check out other internet design inspiration